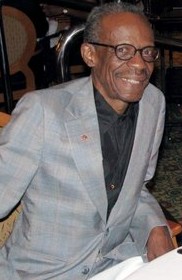 Mentor's Advice:
Get Job Description Before Accepting Employment
Mentorís Name: Curtis James Morrow
Member Status 1: Retired Buffalo Soldier Click for Mentoring Videos
Member Status 2: Entrepreneur (semi-retired) Click for BC biz profile
Location: Chicago, Illinois
Experience 1: U.S. Military, Army Veteran - 4 years
Experience 2: Entrepreneur - 49 years, Since 1965

My Greatest Career Challenge:



At 17, I enlisted in the United States Army, and after basic training, joined the 24th Infantry Regiment Combat Team, which was originally known as the BUFFALO SOLDIERS. This was the last All-Black combat unit. There I found myself fighting a bloody war in a place I had never heard of Ö Korea. I would've left the next day if I could have. War, I found, was nothing like the ones made in Hollywood.

During nine months of fierce combat, I developed not only a soldier's mentality but a political consciousness as well. Hearing older men discussing racial discrimination in both civilian and military life, I began to question the role of my All-Black Combat Unit in the Korean war. Supposedly we were protecting freedom, justice, and the American way of life, but what was that way of life for we Blacks in the United States? Where was the freedom? Why were we, the Buffalo Soldiers laying our lives on the line for a country in which we, African-American citizens were sometimes denied even the right to vote?

Still, we fought and died like the warriors we were. In fact, we were soon to learn that we were, in reality, fighting for our lives ... Our fight for equal rights was another war for those of us that survived the Korean war.

Managing The Situation:

Surviving in a war zone required me to think and act constantly as a trained soldier. Thatís what I meant by developing a soldierís mentality. I have since written a book about my experience as a Buffalo Soldier.

And, if not for the war, military life was okay and a career choice I had made voluntarily. You see, my decision to join had been based on a pact made between me and some of my "homies" who vowed to join up as soon as we turned 17 years old. Even though I later discovered that only one had enlisted in the Navy, some others couldnít pass the tests and the rest just decided not to join, I didnít look back because it was my dream as a boy Ö being quite the adventurer. My life afterwards more than made up for this decision. In fact, I have lived the life I imagined as a kid. I have become an entrepreneur and world traveler, including living in such places as Africa. Another book (memoir) was written by me about those experiences, as well. Click here for my BC member business profile which has links to my book and photo gallery.

My Bottom-Line:

In hindsight, I should not have joined the army without having all the facts beforehand and therefore suffered the consequences. It would have been wiser to have finished school and gone to college first before becoming an artist and adventurer. My senior years now could be spent mainly as a writer and traveler had I taken that path. Local universities sometimes ask me to come and speak to students (especially history classes) about my military experience as a Buffalo Soldier because it is a part of history you will not find in text books. My advice to students and anyone who may be considering any type of career is to research as much as possible so you will know what you are required to do before signing on the dotted line.

This is Your Resource to Find or Become




Online Mentors





A Mears Management Service provided by
Bronzed Connections Member Partners
Online mentoring is an innovative resource for providing encouragement and guidance to those who want and need a helping hand in completing a particular life mission, reaching an attainable goal. More of us would be making better progress in life if someone had reached out to show us the way to make the changes necessary to forge ahead.
Youth and adults, locally and globally, can benefit from this Mentoring Resource
So, please forward this site to your family, friends and associates everywhere
This Page Moved May 25, 2012
Page Last Updated February 19, 2014
Click here to Return to Main Online Mentor's Page


| Curtis Morrow Mentoring Videos |

---
| Curtis Morrow - Online Mentor | How To Stand Out In A Crowd Of Job Seekers | What's Changed In Employment |
---
| Education | Entrepreneurs | Employment | Economics | Easements |
---
| BC Members | BC Newsletter |
---
| Return Home | PR Services | Bronzed Connections | Owner Profile | Contact Info |