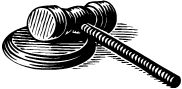 Welcome to The
Mears Management and Bronzed Connections
"Easements Forum"
Managing Legal Developments:
Strategies for Resolving Lawsuits
Created by Socioeconomic Conflicts

Becoming empowered involves gaining the proper tools that are essential to conflict resolution. This forum is designed to present the basics of managing the litigation process initiated to ease problems that negatively impact one's socioeconomic status and standard of living. This includes issues that block legal rights to opportunities in professional development (education), career development (employment), business development (entrepreneurship) and asset development (economics).
Click links below to review articles on the subject:
The Core of Socioeconomic Conflicts
Advantages of Reducing Socioeconomic Conflicts
Importance of Mediation During Litigation
Finding and Hiring an Attorney

Click BC Newsletter to Access Other Forums and Topics
Click Bronzed Connections to View Our Main Advocacy Page

Page Published by Ollie K. Mears
Owner/Founder of Mears Management and Bronzed Connections
Forum Added to Site June 4, 2014
Use Buttons to Share This Forum With Family and Friends


| Core of Socioeconomic Conflicts | Advantages of Reducing Socioeconomic Conflicts | Importance of Mediation During Litigation | Finding and Hiring an Attorney |

---
| Education | Entrepreneurs | Employment | Economics | Easements |
---
| BC Members | BC Newsletter |
---
| Return Home | PR Services | Bronzed Connections | Owner Profile | Contact Info |